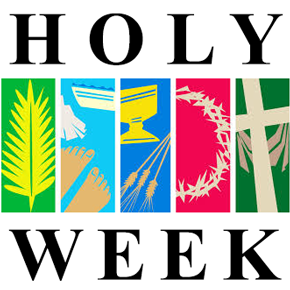 Holy Week
On Palm Sunday, the Catholic Church celebrates the day in which Christ, in order to generously fulfill the Will of God, solemnly entered Jerusalem where He would die for our salvation. With palms, we glorify and praise the King of Kings, who has come into this world in the form of a slave (1st reading: Flp 2, 6-11) to offer to humanity the greatest service possible: "give His life as a ransom for many." (Mt 20:28)
Indeed, we must meditate more intensely on the great mystery of the passion and death of our Lord Jesus Christ, who, having full authority, chose to suffer everything for love of us and for our salvation. Therefore, it will be beneficial to do the following five things in the coming days:
1) On Holy Monday: consider whether or not our lives honor Jesus Christ, and ask Him for the grace to be able to live more for Him.
2) On Holy Tuesday: meditate on the times in which we, like Peter, have denied Christ, and how we need Him to give us the strength to be His true witnesses.
3) On Holy Wednesday: meditate on the times in which we, like Judas, have betrayed Jesus, and say to Him throughout the day, "Jesus, Son of God and Son of Mary, have pity on me."
4) On Holy Thursday: spend at least an hour in spirit with Jesus in the Blessed Sacrament, who asks us, as He asked His disciples, "Could you not keep watch with Me for one hour? Watch and pray that you may not undergo the test."
5) And on Holy Friday: participate, with great fervor and contrition, in the prayer of the Via Crucis.
These five resolutions will help us have a Holy Week. The following parable/story sums up well the significance of what we celebrate during Holy Week:
There's a story of two brothers who shared a small, one-story house. The older brother was a hard-working, modest, law-abiding individual, and the younger brother was a careless, problematic individual who usually committed petty criminal activities. The younger brother would often come late at night, bragging to his older brother about the imprudent activities he was involved in on that particular day. The older brother would frequently encourage his younger brother to consider how he was ruining his life and to change his ways.
One late night, the younger brother came into the apartment, with his shirt and pants blood-stained. He was sweating, trembling, and nervously mumbling to himself. The older brother asked what happened, and the younger brother replied that he did not mean to kill anyone. As they were conversing, sirens began to sound, louder and louder by the second, and flashing lights became stronger and brighter, as the police surrounded the house. The younger brother nervously paced around the house, realizing that he was going to be arrested and eventually executed for his behavior.
The police banged forcefully on the door, shouting, "This is the Police. We know you're in there. Open the door, you're under arrest." The older brother saw his younger brother, whom he knew and loved well, shaking his head as he was pacing, and crying with regret. Then…he thought of an idea. Yes! He walked over to his younger brother to share it with him. Then it happened: the older brother acted. The brothers interchanged clothing. Soon after they were done, the Police entered the house by broken through the entrance door. They handcuffed the older brother, took him away, and left the younger brother in the house realizing how his life was just saved by his older brother. He will forever be grateful…
…Now, you may or may not have heard a story similar to this before. I think about this story this week as we enter the most important week of the year: Holy Week. This is the week in which we meditate on Who our Savior is and What He has done and Will do for us.
These are some things we can reflect upon during this holy moment God gives us…
1) The older brother represents Jesus. The younger brother is each one of us.
2) What the older brother did for his younger brother is what Jesus did for you and for me.
3) What interpersonal relationships, situations, things (or lack of), or attitudes
have been destroying, or could ruin my 'spiritual' life?
4) What does my 'older brother' Jesus ask me to change?
5) Because He knows me and loves me, Jesus gave His life for me, to save me.
How can I show my gratitude to Him from now on?
6) Praise and thank Jesus who didn't stay in the tomb, but rose from the dead
as He predicted, to give us new life and an eternal, heavenly home in His Name!
May God bless you and grant you a very Holy Week.
(Note: This post was originally published on March 19, 2016.)